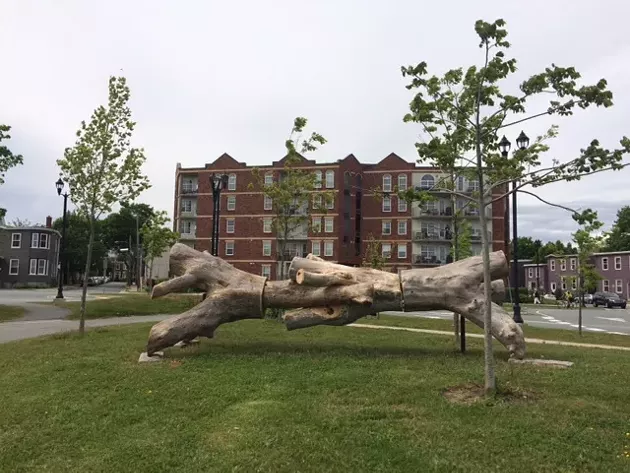 Our Common Woods unveiling
Wednesday, June 21 at 10am
The Halifax Common

thedeaneryproject.com
Trees cut down during the North Park intersection redesign have been given a second life thanks to a new public art project.

Our Common Woods is made up of five different art pieces on the Halifax Common. These wooden sculptures are made from those cut trees—which, in ordinary circumstances, would be going to a landfill or used as firewood.

"People are meant to touch with them and engage with them physically and spiritually, or however they want to," says Kim Thompson of The Deanery Project, which organized Our Common Woods in partnership with the municipality. The Deanery Project is a non-profit which focuses on the environment as well as arts.

"As soon as they were on the ground, people were finding ways to connect—like, fit themselves into the various pieces," Thompson says of the sculptures.

Some of The Deanery Project's first pieces of work involved making benches and a solar wood kiln from trees that were cut to make room for Dalhousie's ocean sciences building.

"There's a legacy piece and an opportunity to talk about our urban forests in that context."

The city got wind of that project and wanted to do something similar in the wake of the roundabout construction, so Thompson got ahold of the felled trees and transported them to the Eastern Shore before the work began.

Choosing artists was "a curated process through people that had been working either with the Deanery or had experience working with live edge wood and doing value added projects."

Art by Alan Syliboy, Erin Phillip, Theo Heffler are currently on display on the Common. Steve Sekerak's "Bench" will be installed on Wednesday, while Gary Staple's "Tree Ghost" will be installed over the weekend.

"Kim [Thompson] was sort of pushing these for things to be objects of play," says Heffler, who sculpted "elm elm maple elm."

"I felt there was also validity in things of wonder. When we look at a tree—this large object—we look up to it and it gives us a sense of wonder, or greatness or largeness."

Heffler originally planned on his piece standing vertically, but he realized a16-foot tall structure was impractical.

"So, essentially we just said, 'Well, what if we lay it down?'"
It worked.

"I liked that idea, because it's sort of like this idea of the tree standing up and then it falling down, which was very much what happened to the trees."

Alan Syliboy brought different facets of Mi'kmaw culture to his piece. His "Mi'kmaw Sign Posts" were created to represent the eight districts of Mi'kma'ki. The posts are in the shape of canoe paddles, which Syliboy says are "symbols of how we lived in this land."

"That was our main transportation so it was very critical to living in every part of this province."

Together, the eight paddles form a Wigwam. A replica of the Mi'kmaq eight point star petroglyph has been placed at the Wigwam's centre.

"I think it's gonna make a lot of difference to Mi'kmaq people that come to Halifax," says Syliboy. "But everybody in general will benefit from this."

The official Common Woods unveiling will take place tomorrow morning as part of HRM's National Aboriginal Day ceremonies.