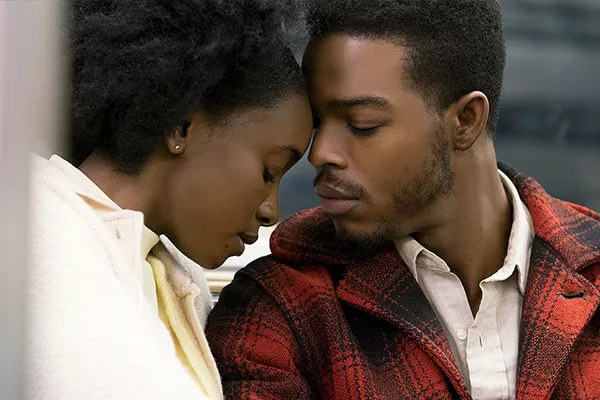 Opens Friday, January 4
Cineplex at Park Lane
Barry Jenkins follows up his Best Picture winner Moonlight with a similarly lyrical, heartfelt, lusciously filmed drama. In his adaptation of James Baldwin's 1974 novel If Beale Street Could Talk, Jenkins' narrative approach is less linear than the three periods of Chiron in Moonlight: We are with a couple in love, Fonny (Toronto's Stephan James) and Tish (KiKi Layne). She gets pregnant; buttressed by their feelings for each other, even though they're poor Black kids in 1970s Harlem, they're happy about it. Then he is arrested for a crime he had nothing to do with. Jenkins weaves in and out of time, in and out of jail, in and out of New York apartments, feeding the story's details between rapturously photographed—by his only cinematographer, James Laxton—and costumed—by Moonlight's Caroline Eselin—depictions of woozy young love.
James' Fonny, like other Jenkins protagonists—Ashton Sanders, Trevante Rhodes and Alex Hibbert as Chiron in Moonlight; Wyatt Cenac as Micah in Medicine for Melancholy—is similarly sensitive and has trouble expressing his myriad, deeply felt thoughts, especially once caught up in the prison system, which encourages feeling the least amount possible. He and Layne carry the movie equally, often framed in direct close-up that makes for an almost voyeuristic viewing experience—moments this tender should not be for witnesses. But this is less a movie than an actual experience, built to wash over you, leaving bits behind—of race and justice—for you to look at and think about long afterward. —Tara Thorne