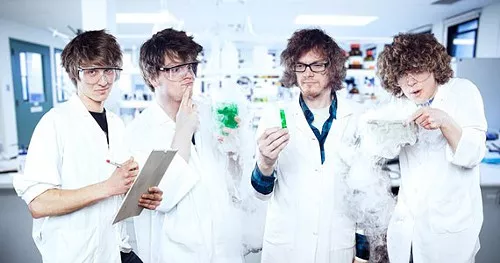 While I spent most of this rainy spring sitting on the couch, eating chips, the hot young
prog-rawkers in We're Doomed have recorded an EP, filmed a music video, played a whackload of shows and are now gearing up to hit the road as part of the Canadian leg
of the Vans Warped Tour. (You may recall that they won the annual Battle to Warped
Tour competition this past February.)
After a farewell show this Friday at the Seahorse with Glory Glory, the Stogies and Levels, the foursome will leap in their newly-purchased van along with their Diminished Fifth Records dad Josh Hogan and
newly-minted roadie Kevin Hall. They'll be playing four dates (July 14 — 18) in Toronto, Missisauga, Montreal and Fredericton. Drummer Scott Tiller says the band has been too busy to spend any time freaking out about sharing a stage with bands like Against Me!, Less Than Jake, Yelawolf and others. "I'm literally just packing a bag full of clothes,
my camera, my phone, some money I guess," he says. "Oh, and sunscreen — I burn really
easily. And I'll probably bring my skateboard." Tiller said the band is most excited about rubbing elbows with Foxy Shazam, August Runs Red and Paramore. "(Guitarist) Nick Jones really wants to meet Hayley Williams," he says. "I won't try to predict what he'll say. I don't want to embarrass him in the Coast." Cute. Keep an eye out also for the boys' debut EP, Like A Machine, available on iTunes July 12. You can download a free track, "The Show Must Go On," at weredoomed.bandcamp.com. Happy trails.
We're Doomed - Impending Doom from Youth Music Movement on Vimeo.