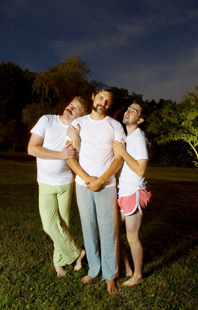 Rest assured there were no short-shorts in Newfoundland. (photo courtesy Kyle Cunjak)
"Dear Tara," writes Andrew Sisk of Share, "I don't know if people who have never attended one of these industry conferences knows what it's like, but it's a mixture of Weekend at Bernie's and Wayne's World 2. We stayed in Hotel Cornerbrook with many other bands which meant that the halls were filled with laughter and antics until 6am every night. Some of the venues were a little far away and the shuttle system was not running smoothly which made it hard to attend some of the events. Even if you wanted to go to a show your artist pass didn't get you in so unless you had the $15 to get into a show you were not playing. The best part is seeing your friends play shows and getting to hang out and have fun, make new friends, and play songs in your hotel rooms together. It goes by too quickly.
Share played two sets, one at the Music Nova Scotia stage which was riddled with technical difficulties and from our perspective one of our worst performances. The second set was at the Forward Music Group showcase. We had to go on last after four other bands that all rocked the stage and had the crowd in a great mood. I didn't know how we were going to top what the other bands created but I ended up crowd surfing, pouring drinks on my head and falling into the drum kit at the end of our set which was without a doubt the most rock and roll night Share has ever experienced, considering we were a folk trio just a year-and-a-half ago.
The trip home from Corner Brook to Halifax was 24 hours long due to the bad weather and ferry delays. I hope other people had an easier time getting home."