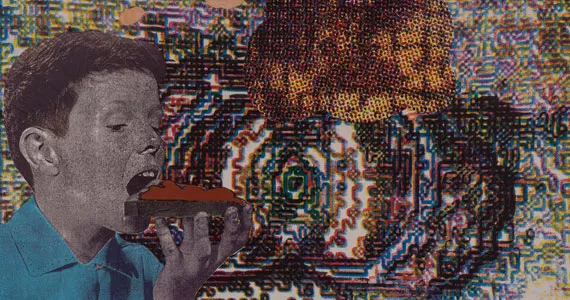 There's something about print. Even with growing technology, artists still flock to the printed form. "We have the instinct to create with one's hands," says Ericka Walker, a visual artist and instructor at the Nova Scotia College of Art of Design.
With the accessibility of machinery at the Dawson Print Shop, artists mix digital imagery with print to create works that rely on the historical aesthetic. This shows in the Activist Ink exhibition at the Mount Saint Vincent University Art Gallery, which showcases letterpress and lithograph prints.
Letterpress is a centuries old art form of handmade posters, pamphlets and newspapers. Emily Davidson's work uses letterpress to predict the future through calls for action in a fictional post-revolutionary world through the fictional Inner City Artists' Commune. "I wanted to challenge the idea that there are no alternatives to capitalism," she says. "People say the only way capitalism can end is through apocalypse. That's a false premise. I wanted to leap past revolutionary times to explore the alternatives without constraint."
Davidson began to work with letterpress a few years ago at the Dawson Print Shop. The 2009 NSCAD grad was drawn to letterpress as an emerging activist. She believes the modification of digital processes, ie digital images turned into polymer plates for printing presses, has made the form popular.
"People are attracted to the handmade product," says Davidson. "After seeing so many digital images, digital printed materials can be bland. People appreciate the details like the trace of an artist's hand."
Dan O'Neill likes the connection of print with the audience. His work, focused on lithography, involves mixing visuals and experimenting with colour. "Analog traditions bring out a sense of community," says O'Neill. "There's the human need to make tactile objects to share with the world."
O'Neill came to lithography later on in life. After working as a graphic designer for 17 years, he went back to school to pursue art full-time. He completed his masters in fine art in 1999 from NSCAD and teaches printmaking and drawing courses at the school.
O'Neill's work in the exhibit spans 10 years of his practice. His activist leanings are clear. "Towers" is a simplistic yet haunting portrayal of the 9/11 attacks as a black on black lithograph with faint outlines of the towers. "And So Be Changed To Jokers One and All - And Then Be Vaporized All In One" is a clever critique on the North Korean nuclear missile program with layered images of military tests, flashing lights and a screaming boy in the distance.
O'Neill's critiques of political oppression complement the activist posters of Ericka Walker. Her work mirrors 20th century European and North American propaganda with a contemporary twist. Walker fell into this aesthetic a few years ago after being drawn to historical art rooted in activism.
Walker pushes the dialogue through her complexity in image and text. In "Happy," text reads, "I'm happy with what I've done" with guns pointed at the viewer. In "Deeds," the viewer reads "By their deeds you shall know them" with tomatoes growing over cannons. Both images provoke ideas of war, agriculture and civic duty.
Walker's inspiration came from conversations with her father. "My dad would talk about the Vietnam War but be conflicted because he was a veteran," she says. "There's more than two sides in complicated issues like war. I wanted to see what happens when you try to simplify the message."
Walker continues her work with an upcoming trip to a printmaking workshop in Austin, Texas. "There's an awakening among young people to become more socially conscious through art," she says. "There's something different about printmaking."