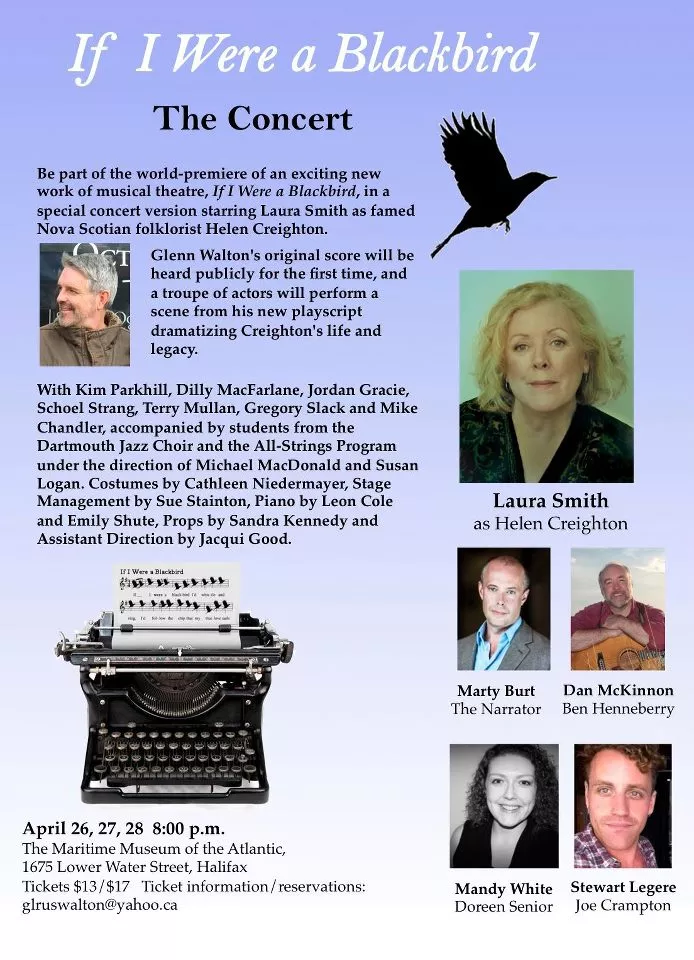 Could a play about beloved folklorist Helen Creighton become Nova Scotia's answer to PEI's tourist-drawing Anne of Green Gables? That question could be answered in time by playwright/filmmaker Glenn Walton and his new work about Creighton's life entitled If I Were a Blackbird.
It's early days for the project, but Halifax is being treated to a sneak peak in the form of a concert version with some roughed in scenes.
Last night's performance proved challenging for the audience. The Maritime Museum provides an unwieldy performance space with horrific acoustics.
Despite the challenges, it was quite apparent that Walton is on to something. He's mixed a variety of Creighton's "found" tunes like "Farewell to Nova Scotia" with others he has written himself to advance the plot, and his tunes stand up remarkably well against the old favourites.
It's too soon to judge whether Creighton's life story can be told in a way that is dramatic rather than just didactic, but Walton has made a good start of it.
This work-in-progress is well worth seeing for the chance to see folk singer Laura Smith on stage and to get a ground-floor viewing of a new musical with great potential.

Saturday and Sunday at 8 p.m. at the Maritime Museum of the Atlantic. Tickets $13 and $17 at the door or via email (glruswalton@yahoo.ca).