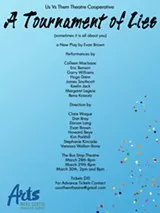 Eight actors. Eight directors. Seven scenes. In Evan Brown's A Tournament of Lies, a cohesive play is formed by taking these potentially disparate things and bringing them together around one central character named Alex, a woman who has affected many people in both her life and her death.
For those of us who don't give a lot of thought to what a director does, it's a revelation to actually be able to see that each director's style is unique. I was especially aware of the different lighting choices in this play. Some scenes were very simply lit…one with merely a flashlight. Others contained gorgeous projections. All were effective.
The script is clever, weaving uniting threads of the story throughout the scenes in a fascinating take on "six degrees of separation." The result is a puzzle that inspires hours of thought and discussion when the play is done.
Featured Directors:
Clare Waque
Kim Parkhill
Stephanie Kincade
Dorian Lang
Dan Bray
Vanesa Walton-Bone
Howard Beye
Evan Brown
Featured Performers:
Garry Williams
Margaret Legere
Hugo Dann
Colleen MacIsaac
Keelin Jack
Eric Benson
Rena Kossatz
James Southcott
The Bus Stop Theatre
March 29th, 8pm
March 30th, 2pm and 8pm
Tickets $10.