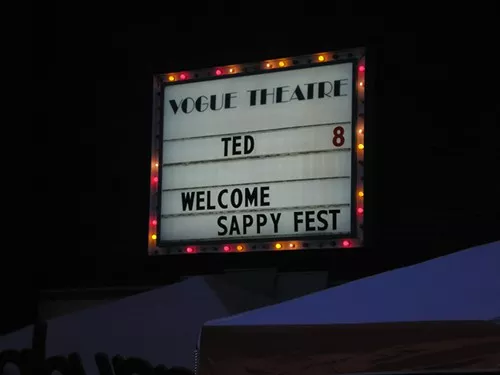 This weekend, car loads of compatriots, wagons of wonderful merchants, vans full of families and campers full of campers made their way to Sackville, New Brunswick to take part in the seventh annual Sappyfest: an independent music festival that takes place over three days in the heart of the heart of the heart of the charming town just across the boarder.
Like every single music festival I've ever attended, Sappyfest is overwhelming. Each day is so jam packed with places to be, things to do, songs to sing and be heard, that you become worn out. That being said, the places are all relatively close together, the things are magical and the songs you sing are compulsive, the songs you hear powerful.
Leading up to the festival, there was much speculation and excitement regarding a 'secret show'. Due to last year's surprise appearance by Arcade Fire, hopes were high: the three main rumors I'd heard before departing for the fest were Neil Young, Bruce Springsteen and Jeff Magnum. Throughout the weekend, rumours degraded from absurd and hopeful to absurd and nightmarish (the bulk of which involved a series of fantastical supergroups revolving around national treasure Raine Maida).
Here's the real, honest to goodness truth: unless you count the slyly named 'Secret Show' beer on tap in the main stage tent or the renegade, improv performance by new-wave pantaloons Duzheknew in the bushes overlooking the porta potties Sunday at midnight, then there was no secret show this year (though some quipping drunkards took Duzheknew's playful skronking to be a surprise performance by some other Canadian pranksters, The Shuffle Demons).
So there was no big ticket surprise, but those sorts of things are always above and beyond at a festival like Sappyfest. Here is a partial list of things that made this past weekend yet another one of the best festival experiences I've ever had care of Sappyfest:
An increase in RCMP presence that resulted in no less freedom for concert goers and a spike in Cinabunny sales at the vendors stalls.
Polaris prize nominees' Yamantaka//Sonic Titan incredible mainstage performance. Stark dress, white kabuki face paint, a giant dragon head prop, tribal drums, operatic singing: one the most unique and entertaining acts performing in Canada.
Toronto macho-rockers Metz flawlessly upping the energy level and acting as crowd catharsis on the first night by executing a typically spastic, airtight set filled with new material.
The production team at Sappy who made every single set I saw sound fantastic. This is not hyperbole, every set I saw sounded like crystal: a herculean triumph at any festival and one that deserves serious kudos.
The three servings of delicious Filipino cuisine I ate throughout the weekend that was made available just outside the main tent for very reasonable prices.
Sackville's very own Yellowteeth giving the performance of the festival that included a regrettably destroyed Legion light fixture, a pitch perfect Deerhoof cover and a disturbingly high level of star-power/face melting shreddery care of guitarist Josée Caron.
Halifax's Nap Eyes opening their afternoon main stage set with a eight minute doozy, fronted by the poetic Nigel Chapman in a shirt that looked like what happens on screen when an NES goes on the fritz.
Getting handed City Mail by an incredibly eager and sweet young volunteer mailboy.
Desperately needing a nap, but opting instead to sit in the sun against a fence at the back of a backyard BBQ watching a crowd of rumps shaking care of Halifax/Ottawa's Cold Warps.
The mini-putt course set up inside Struts Gallery that offered quiet afternoon distraction when the sun and the songs came to be too much for one body to withstand.
Part two of the midnight-Legion-Sackville invasion: pattern clad, sunglassed Astral Gunk giving the second best performance of the festival: a high-energy blast of goofball Stoogery that was instantaneously gratifying. There's something bubbling up from the swamps of Sackville with serious gumption.
Taking part in a spontaneous street dance party powered by a blown-out car stereo blasting Destiny's Child to an eager crew of thirty or so late-night dancers.
The contrast of sitting quietly in the afternoon, watching a gorgeous projection piece at the Owens Art Gallery by art star Daniel Barrow and then booking it to Uncle Larry's to catch the last three songs by Quebec City garage-rockers Ponctuation.
Julie Doiron filling requests and free-rocking in the jungle heat of the Vogue Theatre on Sunday afternoon.
Not being able to stop smiling during unsung folk hero Michael Hurley's quiet, heartwarming set, despite the aforementioned jungle heat.
Sitting in a backyard several blocks from the main stage and being able to hear a lively Cousins set thundering over the small town in the early evening.
Being lulled by the rich one-two punch of the under-appreciated Deloro and understated Timber Timbre during Sunday's main stage marathon.
Witnessing Halifax ex-pats Each Other refuse to let people be exhausted on the third night by ripping through a frantic set of jangly, future pop in the self-imposed darkness on the Legion Stage Sunday at midnight.
Waking on Monday morning to slight rain, heading to the pop-up General Cafe, uncertain of what will sooth my neglected stomach. Being offered a piece of very delicious (and very free) cake shaped like a frog's head (replete with maple-fried crickets on toothpicks, buzzing around the frog's head) and then watching people grin as they read the final installment of Sappy Times, an incredibly astute daily newsletter written by Said The Gramaphone's Sean Michaels.