I'm exhausted today and will try to keep it short.
Went to a new Russian place for breakfast and someone from my party ordered borscht for breakfast, and I found this totally disgusting.
And oh hey look, it's Quaker Parents and Bloodhouse at the Coast HPX party. If you missed this, you missed free beers and good jams. Bloodhouse played "Digital Village" and it ruled.
X-Files break! Meanwhile my houseguest made supper. What a nice guest.
Time to go to Reflections for Hand Cream/Bugs in the Dark/Cold Wraps/Jeff the Brotherhood. We power-walked downtown only to learn that Hand Cream weren't going on because someone in the band either didn't have two pieces of valid ID, as per Reflections' strict-as-hell policy, or because they brought a fake out-of-province ID and well, yeah. I heard a few different things, so I don't really know. Shitty deal for all involved - or WAS IT? (see below.) I felt a bit bad for the bouncer/security people outside, though - they were nice and seemed stressed out and apologetic about the situation.
Bugs in the Dark went on. They're from Brooklyn. They were sexy but reminded me of what the Kills would sound like if they were boring.
We bounced over to Tribeca to catch the tail end of Wildlife's set. They are a super high-energy indie pop group from Toronto, and some of their songs have a dancey Bruce Springsteen vibe. Or maybe dancey Constantines. Anyway, lead singer Dean Povinsky is a very charismatic young man, and the entire band was pretty hilarious and good humored. A good time!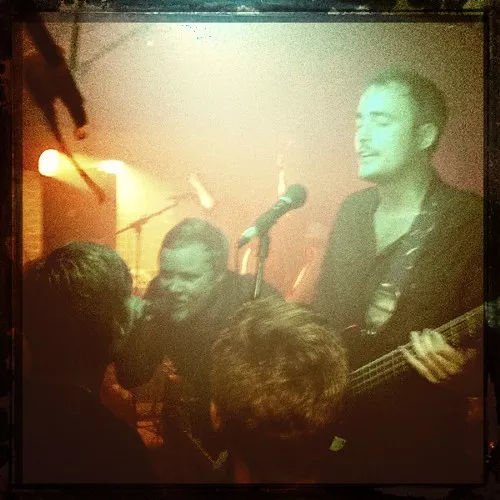 Then we went to the Seahorse to catch the first bit of Jenocide's set featuring DJ James Reid. They played "Beachball" and people flooded the dance floor because of course. The Seahorse was looking pretty full in general, which made me hesitant about the ability to catch Bonjay later. Back to Reflections!
Lots of people showed up at Reflections for Jeff the Brotherhood but HPX staffers had managed to squeeze in Hand Cream for a short, gritty and fun set before the Nashville brothers took the stage. I think it's amazing that they managed to play their set in front of a packed room despite the ID woes, and I think the Pop Explosion is the only festival where people would actually work to ensure this. Pretty special and nice.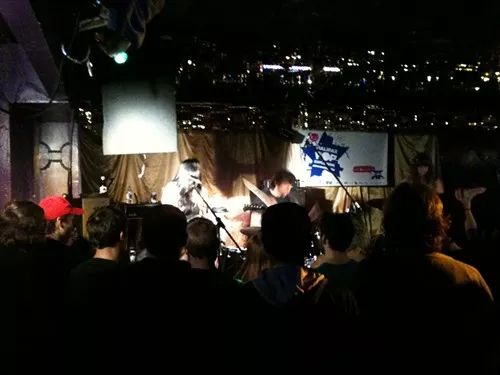 Then Jeff the Brotherhood went on. They are a two piece from Nashville and yep they're brothers, and no neither of them are named Jeff. Watch this video - it will tell you what you need to know:
Wooo, wooo wooo.
I decided to commit myself to being an old person in a mosh pit. I am happy with this choice. I dare you to put on the album "We Are the Champions" and not sing along with the songs, even a little. 75% of the lyrics consist of "Woooo." The riffs are majorly heavy and the songs are super tuneful. They're like Weezer if Weezer was in the 70s and had long Fubar hair and a funny mustache. Oh, and a see-through guitar, and a tendency to crowd-surf. They were pretty loaded - the drummers' eyes were rolling back in his head in a hilarious way - and their set was maybe 15 minutes longer than it needed to be, but they were having fun and so was the crowd. I had a blast.
TONIGHT: It's a SECRET (aka i don't know.) Hopefully Tongan Death Grip and Chixdiggit. Probably Dog Day.