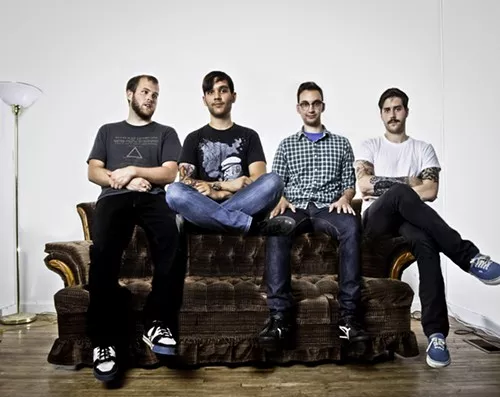 Fans of post-rock know that this genre of music lends itself beautifully to film. As someone who is just learning about this genre, I can still say that that scene in 28 Days Later (where Cillian Murphy wanders the empty streets of London to the hauntingly urgent strains of Godspeed! You Black Emperor's "East Hastings")makes my heart pound.
Kuato knows this too. That's why when the Halifax foursome - Devin Peck, Josh "Pinky" Pothier, Scott Mallory and Adam Toth - heard about the Total Recall remake happening in Toronto, they felt inspired to create a Facebook group to campaign for a spot on the soundtrack. And, y'know, since the band's name is derived from the petite mutant clairvoyant in the film, the opportunity would be rather fitting. Plus, all of this is well-timed to match the release of the third in a series of tiny, perfect Kuato EPs.
"I would say the movie has an artistic influence on what we do," says Pothier, who drums for the band. "I think the music would work. There's a lot of tense situations, slow movements in space, and dark thematic ideas."
In another weird moment of serendipity, Pothier was scanning the film's IMDB page and found out that one of the film's special effects technicians, Daniel Godin, is from his hometown of Eel Brook in Yarmouth County.
"His brother and my father were good friends, growing up," Pothier says. "It's a very coincidental opportunity. I feel like he'll at least hear me out."
Pothier is aware that it's a long shot. But let's not forget about the sway of Facebook campaigns. They've brought Paul F. Tompkins to Halifax, compelled a man to get a Bruce Frisko back tattoo, and gotten Betty White to host Saturday Night Life. That shit is powerful. The Kuato page is already up to 248 attendees.
"It's a gamble, but I figure, maybe these things don't happen because people don't try," Pothier says. "So why not try?"
The Facebook group for the Total Recall campaign is here.
You can hear the band's gorgeous new Summer EP here. They are playing a release show tonight at 1313 Hollis with Writer's Strike and Jonah Hache for $5, beginning at 7pm. There will also be a display of local photography at the show.
Aaaaand you can check out the video for "Pet Seminary" (from the band's Winter EP) featuring footage from the original Total Recall below.
Kuato - Pet Seminary (Total Recall Fan Video) from Joshua Pothier on Vimeo.