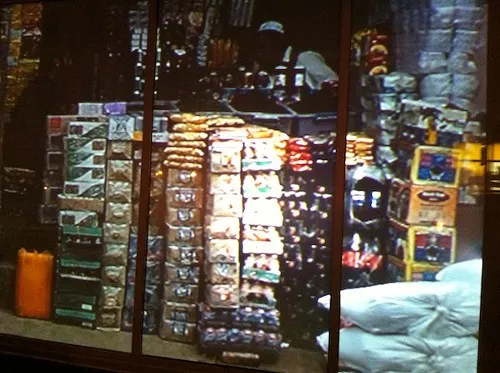 If you were down on Barrington during Nocturne, you may have noticed a video projection of a market scene on the Roy Building that wasn't listed on your program. Mandaee Bazaar is the work of Scott Saunders and Ariel Nasr, who have brought a new view of a bustling Kabul market to broken-down Barrington. The video was shot by Nasr, currently in Kabul working towards building a film co-op, as part of the Afghan Film Project.
The two artists worked together years before, including on the documentary Take Back Education, which examined the affects of debt on Nova Scotian students. Since then Nasr has worked for the NFB, directing the well-received documentary, Welcome to Kandahar, and Saunders was responsible for the Public Gardens anchor project at this year's Nocturne.
The project was funded through the city's Open Projects temporary-art program. And, of course, couldn't have been possible without Saunders' pals over at Tour Tech East, who have done a lot of work with the artist, including last year's phenomenal Tide's Comin' In', which also appeared at the Roy Building. The pair has long-term plans of pushing the project further: documenting other hotspots in the world and projecting them in other downtown cities.