It was 8 p.m, the scheduled time for Montreal's H'Sao to hit the Festival Tent stage, yet there was a curious lack of urgency in the air. Most likely, Fest officials were waiting until a few more empty seats were filled, not wanting the band to have to play to a small crowd.
A few seats over, a couple of women wondered aloud about the reason for the anemic attendance. The misty rain was brought up as a possibility, but that hardly seemed plausible - Haligonians scared off by the rain? More convincing was one woman's observation that, after a week of music, "maybe people are just tired."
There was indeed a palpable sense of flagging energy at the beginning of last night's show, leaving H'Sao, a six-piece group of Chadean descent, with the daunting task of reanimating a bunch of partied-out zombies. The good news? They were absolutely up to it, their mix of multilingual a cappella singing, expert musicianship and stunning dance bringing the tent to life.
Whether riding a soulful groove, a reggae bounce or simply their own voices, H'Sao consistently found the path to hearts and hips. It was hard, after all, to sit still with vocalist and dancer Taroum Rimtobaye dancing her ass off, her body shaking and rattling like a percussion instrument. And the euphoric high the band clearly gets from performing was infectious.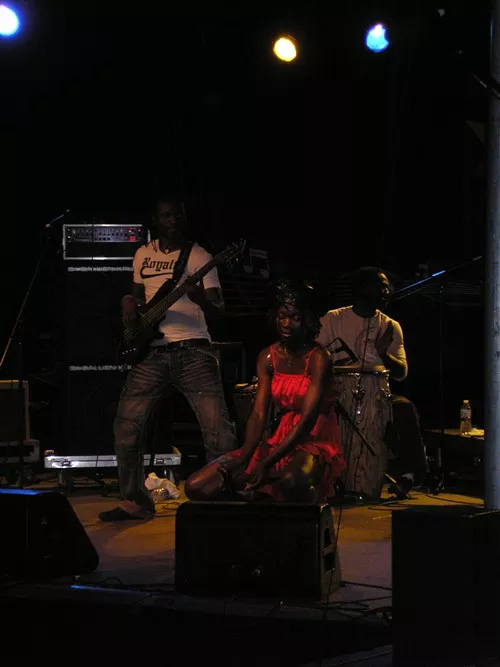 H'Sao's performance was captured via a CBC Radio recording as well as an on-the-spot painting by artist Sharon Hodgson, who was doing her third live painting of the Fest so far (she'll do a fourth tonight). Whereas the band had to battle the crowd's early lethargy, Hodgson had to fight the night's wet weather.
"It's damp, so the colours are taking longer to dry than I'm used to," said Hodgson. "Normally they take about 10 minutes, but tonight it's been an hour and a half and some of them still aren't dry."
Hodgson's work - which, like the rest of her Jazz Fest stuff, was auctioned off at the show, with 80 per cent of proceeds going to Jazz East - eventually was finished. Meanwhile, Los Angeles band Fool's Gold had their work cut out for them in following H'Sao's set. Wisely, they didn't attempt to match H'Sao's energy in their first few numbers, preferring instead to let a series of pulsing, mid-tempo jams creep into listeners' nodding heads.
Fool's Gold is a six-piece that boasts of being inspired by African music, but what struck these ears most forcefully was the guitar playing of Lewis Pesacov, whose soaring, melodic solos evoked American rock at its finest. Later on, the band switched into a higher gear, with their stated influences becoming more pronounced as the pace got faster. Overall, though, Fool's Gold produced some of the most accessible music of the festival for listeners accustomed to Western pop forms.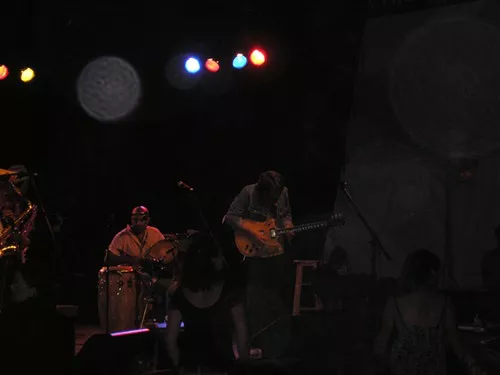 Guitarist Pesacov was Fool's Gold's MVP
After eight music-filled days and nights, the Halifax Jazz Festival wraps up today - meaning weary patrons have to summon just a few more hours worth of stamina.