Unfortunately the southern part of the trip has come to a close, but I can still listen to Sam Cooke Live at the Harlem Square Club at an uncomfortable volume and look over some pictures of Sun Studios and Stax Records. And so can you, if you want.
We went to Stax first and parked right beside Memphis Slim's house. Which was in terrible shape, but the city intends to renovate it. Justin Timberlake intends to sink a bunch of money into Stax, apparently, so maybe he can fund this project too! We were on the Stax tour with about six other people, all fanatical German fans of Elvis. They had monogrammed satin bomber jackets, with portraits of Elvis embroidered on the back. The Stax Museum contains a LOT of reading, so they breezed right through while we read about everything Booker T and the MG's, Rufus Thomas or Sam & Dave ever did and gazed longingly at Isaac Hayes' INCREDIBLE Cadillac.
No photos allowed inside Stax, sadly
Sun Records was next and I was expecting a full on Mystery Train experience, but it was a little different than that. The place is small, but our tour guide was a real honey and it was fun as hell. I would like to say I learned a lot, but I had a hard time retaining any truly interesting facts because I was probably in a BBQ coma. But you can record at Sun Studios for $100/hour. Not too bad!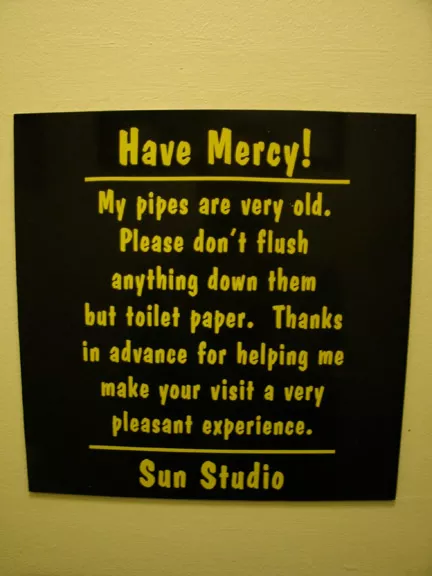 Sun Records' toilet. Your pee could flow down the same pipes as Johnny Cash!
This amp, stuffed with newspaper, recorded "Rocket 88" and made everyone ever love electric guitars and fuzzy noises they can make. Ike Turner dumped it off a car or something and busted it.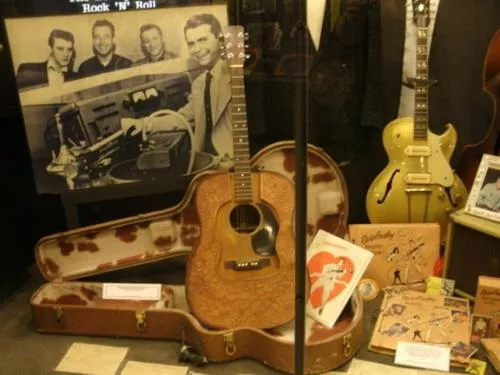 Now I want a tooled leather sheath for my guitars
Johnny Cash probably wasn't looking at a giant portrait of Elvis when he recorded at Sun, but he was definitely looking at that wall
The view of Sun Studios from a car headed to get the best fried chicken ever made. IT WAS A PRETTY GOOD DAY!