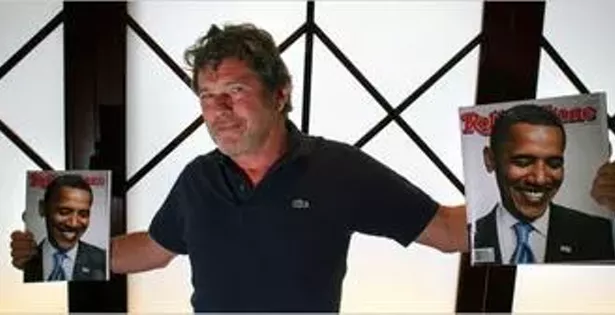 The Simpsons rerun on Sunday was last year's season premiere, where Springfield became the first city in America to hold a primary for the 2008 election and Ralph Wiggum somehow emerged as a contender. Guest voices included Jon Stewart and Dan Rather and a panel of talking heads that included two bloggers and a dude from the Washington Post, who was snickered at for being a print journalist. "Haw-haw, your medium is dying," taunted Nelson.
Now comes the news—and this hurts after our recent screening of Almost Famous, which features the mad old-school paper version—that Rolling Stone is cutting its size down from 10 by 11 3/4 inches (roughly Coast size) to 8 x 11, the standard magazine size.
From Richard Perez-Pena at the New York Times:
In an interview in his office, Jann Wenner, founder, publisher, editor and general guiding force behind the nation's biggest music magazine, was characteristically brash about the change. Leaning back in his chair, one leg slung over the side of it, he said, "All you're getting from that large size is nostalgia."

But as he knows well, nostalgia is a powerful marketing force, as is a package that instantly evokes not only the product, but an era. It is tempting to apply that logic to a 41-year-old magazine that seems to put as many pensioners as teenagers on its cover, but Rolling Stone's readership, bigger than it has ever been, has a surprisingly young median age, in the early 30s, according to market research firms.

Rolling Stone, published every other week, has paid circulation in the United States of more than 1.4 million, the highest in its history, but its single-copy sales have fallen from 189,000 in 1999, to 132,000 last year. Magazine racks at bookstores, newsstands and checkout counters tend to be made for the standard dimensions, and if Rolling Stone is there, it is often on a high or low shelf, out of eye level, or even on its side or folded over.

Gary Armstrong, chief marketing officer for Wenner Media, pointed to Vanity Fair, which has lower overall circulation than Rolling Stone, but nearly three times the single-copy sales. With a standard format, he said, it should be possible to raise newsstand sales significantly.
Two things: it will be harder to distinguish Rolling Stone—which might have a median age in the low 30s but is all over the map content-wise, with covers ranging from dinosaurs like Pink Floyd and Keith Richards to a particularly regrettable recent issue featuring the cast of The Hills, with more obvious choices like Chris Martin in between—from Blender and Spin now more than ever, and more importantly/sadly, it will cut down content considerably. Because when magazines, fighting a losing battle, continue to reinvent themselves in a desperate attempt to stay relevant (Entertainment Weekly launched its third major redesign in less than a decade two weeks ago), it's always the same people who lose: writers and readers. (Never advertisers. That's not how this business works.) Smaller pages mean less words—even though the mag plans to add 16+ pages an issue, with ads and design room you're still looking at a loss, and a helluva lot more "continued on page whatevers"—which mean more pithier, pointless stories about what Lily Allen is listening to and who TI is beefing with this week.
Our advice is to cut out those g.d. Matt Taibbi National Affairs pieces and stories about dudes who come back from Iraq fucked up and machine-gun their families. Because you can argue RS's relevance to music, but what you cannot deny is that it has a great staff (except for Taibbi, Neil Strauss and Austin Scaggs when he's in Smoking Section mode), unparalleled access and deeply reported stories that are almost always allowed the space needed to tell them.
To quote Ben Fong-Torres: Crazy, man. Crazy.
Full Times report here.