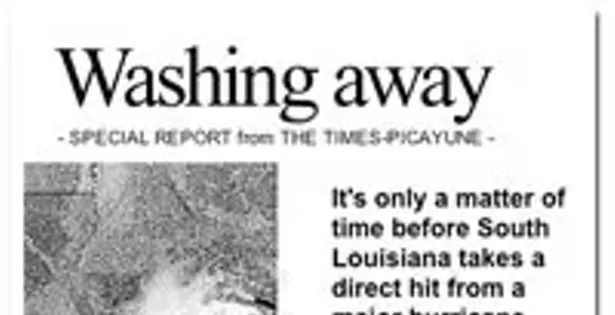 The Wall Street Journal pointed out this week that three years ago, Louisiana newspaper The Times-Picayune ran an in-depth five-part series warning of the hurricane danger to that part of the southern United States. It discussed, at great length, concerns about being surrounded on all sides by water as the ground continued to sink, how levees could turn against cities, how evacuation would be difficult in New Orleans.
It began: "It's only a matter of time before South Louisiana takes a direct hit from a major hurricane. Billions have been spent to protect us, but we grow more vulnerable every day."
Pratt on
Reports have surfaced that maybe our ex-hero Jane Pratt didn't decide to walk away from her namesake mag; rather she was given the Ugg boot by parent company Fairchild Publications, with whom Pratt had developed a bit of a rift. (To her credit — and there are plenty of debits, we know — Pratt often explained lame cover choices in her monthly editors' note, i.e., Angelina Jolie two months in a row sells truckloads more than Gillian Anderson, Courteney Cox and Drew Barrymore combined. She called last month's subject, Kelly Clarkson, cheesy in the same issue.)
"A source close to the magazine says that a tearful Pratt told her staff in a closed-door meeting following the announcement of her departure, 'I just hope you can read between the lines,'" wrote Dylan Stableford in Folio two weeks ago. Maybe, when Pratt was telling Larry King what a great writer Pamela Anderson was, she was just fronting for her dumbass boss. (All would be forgiven, Jane, if that were the case.)
We're now hearing that Pratt will get her own show on the Sirius radio network. Considering her disasterous foray into television talk shows a decade ago, perhaps internet broadcasting will be more suited to her talents.