Bicycles will soon be manufactured in Halifax. Entrepreneur
John Wesley Chisholm
and partner
Roger Nelson
, who have been operating
Halifax Cycle Gallery
(6299 Quinpool Road, 407-4222) for about a year, are about to embark on their next enterprise,
Halifax Bicycle Company
. The pair plan to get the new factory up and running this summer, produce a few models for trade shows in the fall, and then be fully operational in 2012, making 1,000 bikes a year.
Chisholm invited me over to the Cycle Gallery Friday; he's pictured below with the prototype of what he dubs as the "Halifax city bike":
"I noticed that the whole rest of the world drives a different kind of bicycle than we do in Canada," explains Chisholm. In his travels, he says, "I see people driving bikes for transportation. The key difference is, they're not sport bikes---you sit upright on the bicycle, meaning your weight's not on the handlebars. It's a city bike. And I thought, 'this is the greatest idea in the world,' because Canada drives bikes for sport, not for transport."
The idea behind Halifax Cycle Gallery was to bring transportation-oriented bikes from around the world to Halifax, and see what kind of bikes locals preferred. What Chisholm discovered surprised him.
"This is our most popular bike," he says, showing me a
Pashley Princess
, a British-made bike with an obvious feminine design. "You could argue that we're a girls' bike shop. We sell bikes girls-to-boy, three-to-one. Girls and women come in, and they want to talk about bicycles---about beauty and usefulness, and I guess you just don't talk like that in a sport bike shop."
click to enlarge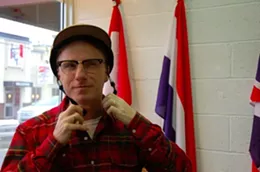 Interestingly, one of the shop's big selling points has been the kind of helmets it offers. "One of the crucial aspects of selling bikes to women," explains Chisholm, "is the bicylce helmet law in Nova Scotia is basically a law that says, 'Women: don't drive bicycles.' You can spin it however you want, but women don't want to wear helmets that make them look like they're in a race. And up until this summer, that's all that's been available [in Halifax]---the racing bike helmet. So what we said was, 'I can't change the helmet law, but let's get helmets that don't make you look like you're in a race.'"
Besides the Pashley Princess, the shop sells a variety of European and Chinese-made upright bikes, as well as the classic California cruiser that took that state when I lived there in the 1980s and '90s. Chisholm spoke at length with the Bike Gallery's customers, and thus armed with a good understanding of what it is locals are looking for in the way of bikes, he went to Alternative Needs Transportation, a shop outside Boston that teaches people how to build bikes, and started playing around with some designs. The result is the prototype bike Halifax Bicycle will begin building.
The defining element of the bike is its simplicity. It has 29-inch wheels with "balloon" tires---a "pretty decent shock absorber system," explains Chisholm. There is an internal eight-speed gear system, so there's no messy and fussy external derailers for owners to worry about. (The factory will also build 11- and 14-speed bikes.) It has an old-style, pedal-backward coaster break---"why have wires to get wrecked?" asks Chisholm. The bike is all steel-construction, with a classic Brooks saddle and Sumano gear system, along with old-style pedals. Chisholm describes the design as "laid back," with a 66 degree angle to the bars leading to the handle bars and seat.
The Halifax City Bike will cost between $1,000 for the most basic, and $2,500 for more elaborate styles. Chisholm thinks he can sell about 50 a year in Halifax, with the remainder going out to distribution across North America.
Chisholm is still looking for a location for the factory---he says he either wants to locate in Halifax on the peninsula, or in a smaller community like Musquodoboit Harbour---the point being that workers wouldn't have to drive to the factory. At full production he'd have 10 employees.