click to enlarge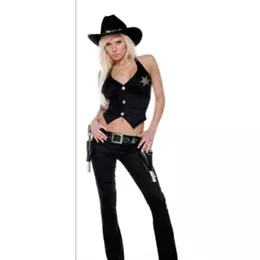 "There are lots of women working here, with nowhere to go for a good time," says
Carla Balsor
of the Burnside Industrial Park.
Balsor's solution? Cowgirls Saloon!
Balsor is owner of the Rodeo Lounge (121 Ilsey Avenue), one of the biggest and best country-themed bars going anywhere. The place is huge, seemingly sprawling on forever. As of next week, the Rodeo's dining room will be rebranded Cowgirls, and be aimed directly at those idly frustrated but potentially libidinous female industrial workers.
"Happy hour at the Rodeo is shots and beers, not overly exciting for women," explains Balsor. "At Cowgirls, were going to have happy hour with wine and coffee drink specials, and an entire line of desserts. There will be a peach cobbler, for example."
The present Rodeo menu will be entirely reworked for Cowgirls, and there are other, as yet unannounced, changes in store for the kitchen. The decor, too, will be changed: "we're going to have eight-foot cactuses, that sort of thing," says Balsor.
But somethings will remain, including Ozzie, the mechanical bull. "Women love to ride the bull," says Balsor.
Cowgirls is inspired by, but otherwise unconnected to, the American chain of bars by the same name, which tends to set up shop near to Hooters restaurants.
A grand opening party is scheduled for this coming Thursday, August 13, with karaoke host Jackie Smith and more drink specials (and sampling) than you can shake a lasso at. And prizes too, including a 37-inch plasma TV, beer reefers and the like.
Balsor invites me to the party, saying I should get up and try karaoke. "Everyone says that," she says when I say I have no singing skills. "But you get three beers in you, and you think you're Garth Brooks."
There's a consolation prize for pathetic loser singers like myself, she explains: a t-shirt that reads "Good thing I'm hot, because I can't F$@#*% sing! I got gonged at Cowgirls karaoke."
I'm so there.