Update, 2:30 Friday: This afternoon, owners of cars parked on Granville Mall were told to move them, or be ticketed. Regular parking enforcement resumes.
Victoria Page, owner of Gallery Page and Strange in Granville Mall, emailed The Coast pictures of what she says has been a regular occurrence over the past two weeks: vehicles parking up and down the pedestrian mall, directly under the dozens of "No Parking" signs. None of the vehicles have been ticketed, she says.
Many, but not all, of the parked vehicles seem to belong to contractors working on the Scotia Square renovation, says Page. "It looks like people have figured out you can park here without getting a ticket, so everyone's doing it."
click to enlarge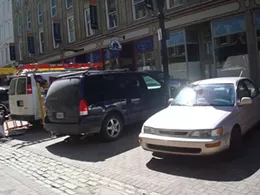 Page tells us that she approached the parking enforcement people and asked them why they weren't ticketing. "The city sold Granville Mall, so it's not No Parking anymore," one of the enforcers told her.
This is false. The city has not sold the mall, confirms city spokesperson Michaelyn Thompson. Moreover, there has been no change in parking policy for the mall.
"Poor Brussels!" says Page's business partner, Victoria Strange, of the neighbouring restaurant. "You can't even see their storefront because of the cars. At least we have a sculpture in front that keeps people parking directly in front of the gallery."
A call to Brussels Friday morning was not immediately returned. But Strange says the restaurant's manager has called the city "for weeks" to try to get the parking situation resolved, to no avail.
Page, too, has called the police department's non-emergency line to complain, also without results.
Thompson, the city spokesperson, says that complaints should've been called into the city's 311 line, not to the police department. She says that the people responsible for overseeing parking were completely unaware of the issue on Granville Mall.
"But we're treating this as an official complaint," says Thompson, referring to The Coast's inquiries.
Friday morning, the pedestrian mall is still filled with cars, says Strange. None have been ticketed.