Business Improvement District
North end Halifax businesses are about to get a big boost. Property owners have agreed to form a business improvement district incorporating Gottingen and Agricola Streets and the Hydrostone area. This means properties will be assessed an additional property tax, with the proceeds going to fund a business development and street improvements.
Typically, BIDs do things like put out collective advertising and buy landscaping. The idea is that the BID improves the business climate, and therefore increases property values, more than cancelling out the increased tax.
The north end BID is HRM's eighth. Other BIDs have been formed for downtown Halifax, Spring Garden Road, Quinpool Road, Herring Cove Road, Sackville Road, downtown Dartmouth and Main Street in Dartmouth.
Two previous attempts to form a north end BID have failed, with property owners voting about two-thirds against the idea. But the third time was the charm: with 126 votes in, 83 property owners, or 66 percent, voted for the BID. The difference this time was that the proposal was put forward by Bernard Smith, the former director of the Spring Garden Area Merchants Association. Smith rented an office on Gottingen Street on his own dime, and has been pounding the pavement for three months, meeting with property owners and discussing his ideas, which include hosting an arts walk and doing promotions geared towards the many antique stores, among others.
The BID proposal calls for an additional tax of 18 cents per $100 of commercial assessment, with no individual property being charged less than $50 or more than $2,500. Halifax council still has to put its stamp of approval on the BID, and is expected to vote on it in June. The tax receipts for the BID won't come in until next year, but Smith is going to ask council to loan the BID first-year operating costs so he can get up and running immediately. Failing a city loan, he says he'll seek a bank loan.
Dental Clinic
A few months ago, the space-squeezed North End Community Health Clinic at 2165 Gottingen Street expanded its footprint considerably by renting out the former Viva's Restaurant space at 2103 and 2101 Gottingen Street. The intent was simply to get some "breathing space" for large group programming and to have a commercial kitchen for the Hope Blooms initiative, in which neighbourhood kids use crops from the local community garden to make salad dressings that are sold at the farmers' market, explains executive director Jane Moloney.
With the new space yet another opportunity presented itself: a dental clinic. With a one-time grant from the provincial department of Health and Wellness, NECHC was able to install the plumbing and walls for a dental clinic, but would have found it "prohibitively expensive" to proceed further, says Moloney. But a company called Henry Schein donated "the chairs, the stools, the Xrays, the mechical pumps, the sterilization and persuaded a dentist they're doing renovations for to donate the old cabinets." Within a couple of months the space will be fully fitted as a dental clinic.
There is still the issue of how to get the dental clinic up and running, says Moloney, but Chris Lee, a dentist who runs the emergency dental program at Dalhousie Medical School, has organized 12 private practice dentists who are interested in donating their time at the clinic.
Moloney says she's working through the details of getting the dentists and dental assistants organized, figuring out operating expenses and coming up with a proper business case to make the dental clinic a reality.
Grocery store
The North End Community Health Clinic is also one of the groups behind a drive to bring a Coop grocery store to Gottingen Street, although Moloney is quick to credit Norman Greenberg with initiating the effort. Greenberg is a psychologist with the Social Enterprise Network, a group that brings people with developmental disabilities into the workplace. That work has given him an insight into alternative business models, explains Moloney. Greenberg was not available for an interview Tuesday.
The idea of a Coop store has taken on momentum, with five community meetings held in recent weeks, says Robert Lemoine, a vice-president of Coop Atlantic, the cooperative that connects the Coop grocery stores. A Gottingen Street store would be owned by a local cooperative board, explains Lemoine, but Coop Atlantic would provide advice, a management template and would deliver the vegetables, meat and groceries to the store.
Moloney spells out the specifics: according to the 2006 census , there are 1,300 households in the couple of blocks either side of Gottingen from Cogswell to North Streets. Coop Atlantic brought projections showing that a 10,000 square foot grocery store could turn over $5 million worth of product annually with 2,100 members, so long as half of them bought all their groceries at the store.
Moloney says those numbers aren't as bad as they look at first glance because the neighbourhood population has boomed with all the new residential development since 2006, and will grow still more when the Housing Trust affordable housing buildings are constructed. Moreover, there are a variety of social service agencies and other institutions in the area that would purchase through a Coop store, and as Gottingen Street is a thoroughfare to the Macdonald Bridge, some number of people who live out-of-area could be expected to shop there.
"For this to be a vibrant community, it needs to have a whole bunch of different services and supports that people need," says Moloney. "Everybody needs to buy food. At the moment, Sobeys is the nearest grocery store, then there's two Superstores. People in this area are on low incomes, and when they have to take $10 out of their grocery budget for the taxi ride home that's quite a significant bite. And there's a feeling that a food coop would also present a bunch of other opportunities, including employment, the fact that the profits may stay in the community, that it's community owned, that we can be the ones that set the policies and bylaws. And there's no sense that Sobeys' profits or Superstore's profits come back into this community."
Moloney says a cooperative could write into its bylaws that only people who live in the neighbourhood could be employed in the store, a rule which would help in the kind of career development work that Michelle Strum, owner of Alter Ego Cafe and Backpackers Hostel, has incorporated into her businesses.
Strum is also involved in the Coop effort. She says it could become a reality within a couple of years.
Credit Union
Another badly needed service on the street is a bank. Bernard Smith in particular has been pushing that idea, and has even found a space for it---the Forbes Restoration building at 2172 Gottingen, which once used to house a bank, and still has the vault. Forbes also owns the building next door so could simply shift its operation, says Smith.
click to enlarge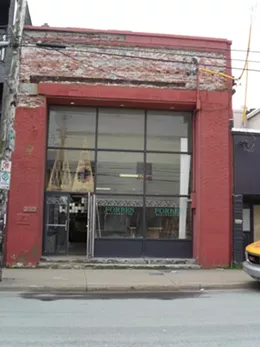 In fact, two years ago INova Credit Union was "very much focused" on moving its operation from Almon Street to Gottingen Street, says Willy Robinson, general manager. But there wasn't then a space on Gottingen that met its needs, and the credit union instead jumped at the opportunity to move into the former CNIB building at Almon and Windsor Streets. That move is taking all of the organization's energy at the moment, says Robinson.
Still, the move to Gottingen "will probably happen one of these days," she says. "Once we get a really good anchor credit union going [on Almon Street], we can look at Gottingen again. Also, there isn't any reason people on Gottingen Street can't open up their own credit union under the auspices of INova. They could hire their own people, get their own budgets going and use all of our resources and make it happen that way."
Just like Coop Atlantic could provide its expertise, its management template and its advice, and provide product to the door of a new Gottingen Street cooperative grocery store owned by locals, Robinson says that INova could provide its expertise, its management template, its advice and provide the capital needed to run a Gottigen Street cooperative credit union.
"If you have everything taken care of for you, then it's no different than anyone else going and getting a job in a bank," says Robinson. "If we ever do go to Gottingen Street, I'd like to see it run by people who live in the area, as much as possible.
"It could look like anything you want it to look like," continues Robinson. "It could look like just an office with a cash machine and a couple of people who are advisors.
"It needs to happen," she says.
A new air
But whether the Gottingen Street area is open to the challenges of organizing its own cooperative grocery and credit union organizations is an open question. Strum, at Backpackers, thinks that it is. So does Moloney, at the North End Community Health Clinic.
"We had over 20 people sign up not just as interested in the Coop, but as saying they would be actively involved in the effort," says Moloney. "Residents want to see this happen."
And with the new organizational strength and expertise that Bernard Smith brings to the Business Improvement District, people on the street seem to have a more positive attitude generally.
click to enlarge
And then there are changes on the ground. The former Diamonds Bar building was torn down last month, and the construction fencing was last week moved down the street to the former Mitchell's Environmental Treasures building, the biggest and ugliest eyesore, not to mention source of rats, on the street. Demolition is underway---workers are dismantling parts of the interior of the building today, and passersby should start seeing the exterior coming down any day now.
The physical removal of MET will be transformative, bringing about a huge change in mental outlook of the street. But the other changes afoot on Gottingen may be even bigger.
There's a new energy on Gottingen Street, and that energy is playing out in all sorts of interesting and positive ways. There is big news this week for the street: A north end business improvement district is being formed. And there is big almost news for the street: a full dental clinic has been outfitted, and organizers are just trying to figure out how to get it up and running. And there's also important, long term trends on the street: There's a real possibility that Gottingen will soon see both a grocery store and a bank office, and the street's biggest and longest standing eyesore is about to come down.