A small group of black-clad Greenpeace campaigners startled grocery shoppers in downtown Halifax today when they drove a hearse to the doors of the Queen Street Sobeys and unloaded a coffin containing the head of an Atlantic cod.
"We're here to urge Sobeys to stop selling cod," Sarah King, a Greenpeace oceans campaigner based in Vancouver, told reporters. "The Atlantic cod stocks have been showing no signs of recovery and Sobeys has refused to take any action to stop selling cod to death."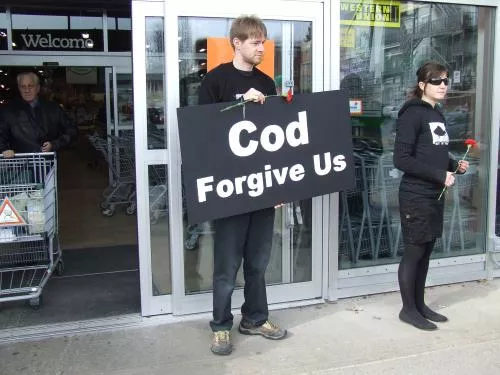 The Greenpeace "mourners" carried red roses and silently handed out an "obituary" noting that "Atlantic Cod died on July 2, 2028 after suffering a long fight with overfishing." The notice adds: "Atlantic Cod was preceded in death by the Atlantic walrus and is survived by the jellyfish."
Within minutes, Sobeys managers ordered the protesters to leave. The Greenpeace campaigners retreated to the public sidewalk and Halifax police arrived to make sure they stayed off Sobeys property.
Sobeys manager closes coffin
King said that as a company based in the Maritimes, it's unacceptable that Sobeys continues to sell fish that are in danger of extinction.

A Greenpeace fact sheet says all eight of Canada's largest retail chains sell Atlantic cod.

"The Greenpeace supermarket campaign calls on retailers to remove Atlantic cod from sale to allow stocks to recover," the fact sheet adds. "Greenpeace also urges retailers to adopt seafood policies that ensure only sustainable seafood products are available to their customers."
King said that after receiving a failing grade from Greenpeace last year, Sobeys promised to develop a sustainable seafood policy, but has since abandoned its plans. She added that the company also sells other endangered species including bluefin tuna.
Greenpeace is calling on Sobeys to put more information on product labels, so that customers can tell whether cod is from one of the stocks most at risk. The federal Committee on the Status of Endangered Wildlife in Canada has classified the status of five Canadian cod stocks with those off the waters of Atlantic Canada listed as: "endangered," "threatened" and of "special concern."
King said she's hoping today's mock funeral focuses attention on supermarkets that continue to sell cod. "As long as we keep fishing, selling and buying from these overstressed fish stocks, cod won't recover and a species that once filled our coastal waters will disappear forever."