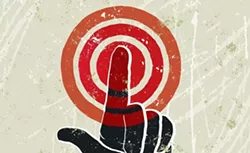 R
esponsible polyamory is NOT: Agreeing to be "open" and then not seeing or speaking to your partner for weeks, only to show up at her birthday party while she's trying to run things and casually mention, "hey love you lots I'm feeling frisky again I'm available for that now" and in the same breath, "oh by the way I've been seeing some other people"—WITH DETAILS about the people?? Like, she doesn't wanna find that out in that moment. That's a sit-down conversation. Or maybe you've already agreed to be poly and not share when you're seeing other people.
But YOU show up, you're already drunk and high and she's stressed out trying to host a party. She hasn't heard from you in ages and you just drop in and catch her the one moment she's alone and she feels cornered and—UGH makes me so mad that hot guys get away with that shit. She didn't deserve that. You don't even know how much you hurt her. She should have dumped your ass ages ago. She can do SO much better.
I hope the other people you're "casually" seeing can see that how you behave is NOT OK, and they don't make excuses for you. I hope you can get your shit together and stop using alcohol and weed to avoid your problems! There are a lot of people who care about you in this city! But the more you act like that, the fewer they will be.
—Friend Of Your Ex (I Was There)