click to enlarge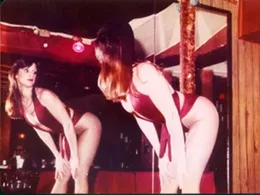 The doc I saw on Saturday evening was probably the best argument for decriminalizing prostitution I've ever seen. Director Cameron Yates's The Canal Street Madam tells the story of Jeanette Maier, who was convicted of running a bordello in New Orleans in 2002. She's the second of three generations of "working women," who, in the good times, made a very solid living by servicing big business and politicos of New Orleans. The doc picks up with Maier in the years following the bust, and catches up with her two sons, both who've been in jail for drug offenses, and her daughter Monica, who now raises two children and is no longer in the business. Jeanette reveals how the system prosecutes women while letting the men walk, how she tried and failed to find work doing other things---to be a nurse or a real estate agent---because you can't have been a felon and do that kind of straight work. Most painful was watching her appear in front a rowdy group of men at a New York radio station event, and the incredible insensitivity of the audience. It made me ashamed for my gender, to be frank. Maier comes off as flawed, certainly, and maybe not the best mother in the world, but a hardworking and ingenious person who did her best given the circumstances she found herself in. And as she unknowingly paraphrases Pierre Trudeau in a number of scenes, "What two or more consenting adults do in the privacy of their own homes is no business of the government." Though it does overuse some of Maier's home movies and runs a bit long, I strongly recommend the doc whenever it gets released, whether in theatres or on DVD.
In the Park Lane lobby, I ran into Hobo With A Shotgun auteur Jason Eisener, who was there picking up a few tickets, taking a break from editing his magnum opus, which he assured me is "going great." I also was happy to run into Cory Bowles before he headed off to the Telefilm Party. Earlier in the day Bowles had a fruitful meeting with the people from The Harold Greenberg fund, an important private Canadian film financier. According to Bowles, they're excited to help him get his feature film script made, a racial comedic satire called Cracker Factory. Bowles then proceeded to enact a musical number from the script for Eisener, The Corridor actor Glen Matthews, and me. To offer more detail or even attempt to describe it would do Bowles a disservice, but I will say this: If this film gets made and is half as funny as Bowles describes, it will be fucking outrageous and very, very funny.
At the Oxford I saw In A Better World, the new feature from Susanne Bier, Danish director of the Oscar nominated After The Wedding. I was disappointed to see so few people at the cinema for the screening, given this is a world class filmmaker. Well, she didn't disappoint and those who were there saw a great movie. Ostensibly the story of two teenage boys who respond in different ways to bullies, but bond over the idea of righting injustice, it's a non-didactic and very satisfying drama about power and its misuse. One boy hates his father because he feels he didn't fight enough to keep his mother alive. The other boy's father is a doctor who travels to Saharan Africa to help refugees, and scenes of poverty and suffering there contrast nicely with the privilege on display in rural and urban Denmark. His healer values of peaceful protest are challenged in Africa, just as his son's are at school with the bullies. But the disparity between societies and violence versus non-violence subtext isn't heavy-handed at all, it's one of those movies that shows you these lives and events and lets you decide what the lessons are, beyond the affecting drama. And the performances, especially from the young actors, are sterling. It's a tale one wishes Hollywood was better at doing themselves, though when they remake one of Bier's movies in English, as they did with Brothers, with Tobey Maguire, Jake Gyllenhaal and Natalie Portman, it becomes so stagey and false it makes your teeth ache.